This note is to thank everyone who has helped us implement our flagship project – the summer camp for 78 teenagers who lost their parent at the recent conflict. First to thank are the 45 founding members of our organization who entrusted a small group of friends who started it. This is also to thank all those who have contributed to our programs as their means allowed, from $10 to a few thousand. This is also to thank all those partners who joined and contributed in-kind, with their times or real resources. We made sure every effort and every dollar were leveraged, impact was maximized, and there was not a single unnecessary expense.
First, we thought very hard where we can make a real difference. We identified that those who suffered a sudden bereavement need help, especially those at a delicate teen age. We also realized that the most effective way to deliver such help at scale was to get them together. The "Camp" idea was born. But it was beyond just getting them together. We consulted professionals and learned from experiences around the world and understood that we need to help them to form a community that shares a strong bond for years to come. Only within such community, its members can confide in each other and heal each other; and only such community can reveal where a more targeted professional help may be needed. That's how we designed the Camp program – full of team building and bonding, emotional and psychological support, join activities, and confidence building.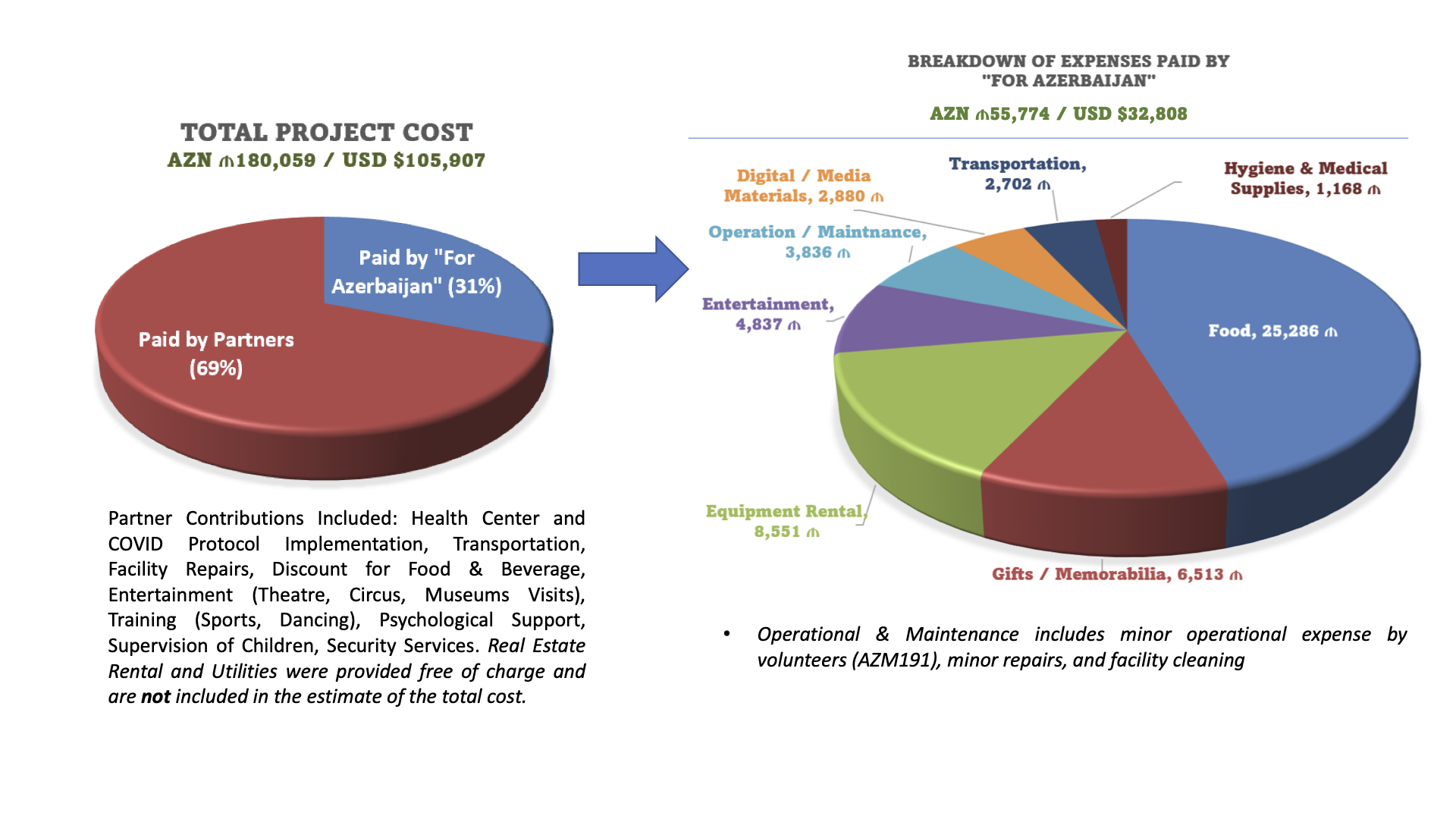 What you have hoped for – worked. The kids left the camp as a group of friends, confident that they have each other and can get help from each other and us. It's been some weeks since the Camp closed, and these kids have been writing asking to make sure we continue bringing them together. There have been few other camps organized in Azerbaijan following our ideas and the approach implemented. This is great news! Now these communities and the cohorts of various age groups need to be maintained and supported for years to come. The experience shows that such communities are also effective for spouses, parents, siblings. Creation of such communities and organization of onetime events is just the first step in the long journey. The future of these children and their ability to step into adulthood in full confidence should be seen as a moral compass of our society. If they fail – we fail; if they succeed and have fulfilling lives – we succeed as society.
Second, we worked very hard to do this project as a partnership. You can find every detail of our accounting and where For Azerbaijan spent its resources. But you should also be pleased to hear that we estimate that we have leveraged our contribution nearly three times. In other words, we actually paid for 30% of the total cost of the Camp. Who paid the rest of the expenses, such as: rental of the camp grounds and building, security, psychological assistance, COVID tests and medical support on-site, visiting entertainment, internet connectivity and televisual equipment, minor repairs of facilities, paining of signs and roads, transportation to cultural sites, supervision of children and team building, and discounts for items we actually paid for? It was our partners – private individuals, private companies, government agencies, organizations of young volunteers. This is what made the project at this scale and impact possible! Please take a look at the overall distribution of the spending for this project below.
We can proudly say that this probably was the first project of this nature and scale carried out by an Azerbaijanian non-profit. It was possible because the cause mattered, and everyone trusted us and each other. We are trying to create an organization that would give an opportunity to everyone who feels compelled, urged, morally obligated, or emotionally necessitated to take part in making Azerbaijan stronger and prosperous for many to confidently join it and contribute to its work.
We are For Azerbaijan. Our mission is to nurture a sense of shared responsibility for Azerbaijan!