Education = Opportunities, Women's Education = More Opportunities
There is no shortage of scientific studies showing a strong link between education and long-lasting economic and social opportunities, as well as society's prosperity. Educated people can take better care of their families and contribute to society, creating stable and socially cohesive communities. Educating girls is especially beneficial for societies. It is mainly because educated women make informed decisions about themselves and their families. They raise educated children. They shape their families' futures, improving their health, income, and social status.
"After my husband passed away, my future was uncertain. I had to choose between getting an education and raising my son."

– Nigar, scholarship recipient
Why We Invest in Quality Education
Recent years have seen some investment in early childhood and K-12 education in Azerbaijan, offering new opportunities for girls. However, we at FA believe that additional financial support, targeting college students and beyond, is key to ensuring that girls across the country get access to quality education. The goal of our latest initiative focusing on young women's education is to ensure that they strive, to elevate their children, parents, and their communities. The initiative is closely connected to one of For Azerbaijan's top priorities to embrace the future by helping the youngest members of the community develop the best of their potential.
Academic Scholarships
Our academic scholarships offer gifted, motivated, and hardworking students from lower-income families an opportunity to receive a quality education, acquire new skills, and pursue careers of their choosing.
Mentorship Program
In addition to paying their college tuition, we match our scholarship recipients with a mentor – an experienced professional who can contribute to their education, while also guiding and supporting them along their academic journey. In collaboration with our partner, Shahla Garayeva Scholarship Program (SGSP), whose structured mentorship program has already supported countless students, we assist our award recipients with their academic progress and technical skills development and help them define their career goals and aspirations.
FA Helped 40 Girls on their Academic Journeys
Our most recent fundraising campaign at For Azerbaijan helped raise a whopping $12,893 through various social platforms. Our Founding Members added another $1,955 to get us to our target of $14,853.
Thanks to our generous donors, we were able to support two programs. Twenty high-school-aged girls received college tuition scholarships, setting them on a path of success in their chosen fields of study at 14 different universities across the country. At the same time, we were able to help another forty young women in Azerbaijan by assisting them with enrolling in language classes to boost their English speaking and writing skills. To learn more about how we raised our funds or how they were spent, take a look at the numbers below.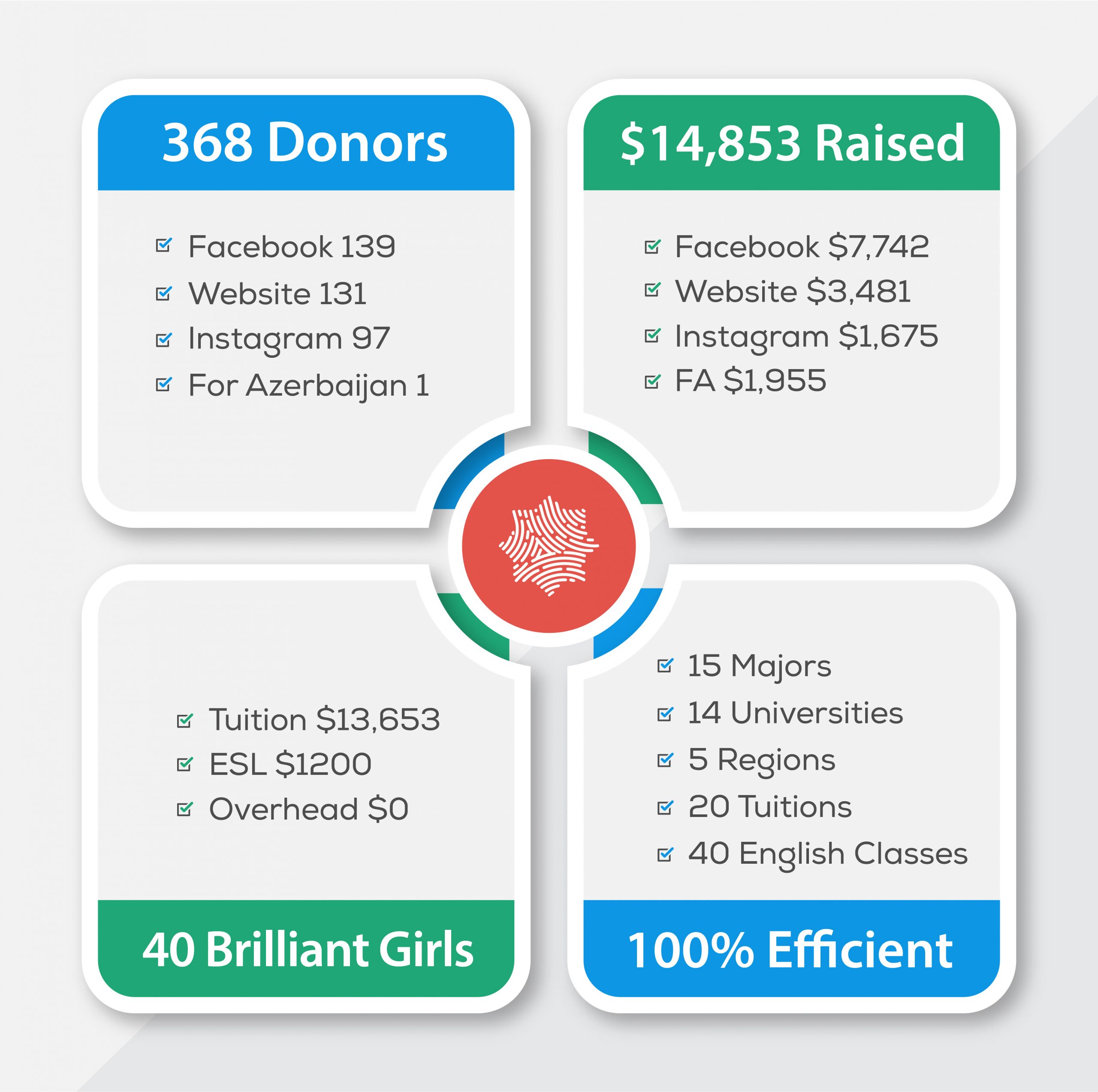 How We Picked Our Scholarship Recipients
We worked with a well-known Shahla Garayeva Scholarship Program (SGSP) to ensure that the twenty scholarship recipients were picked through a rigorous, inclusive, and fair selection process. Thanks to the partnership, For Azerbaijan has been focusing on fundraising and logistics. SGSP has been engaging with these young women and will continue to support them throughout the year via its mentorship program.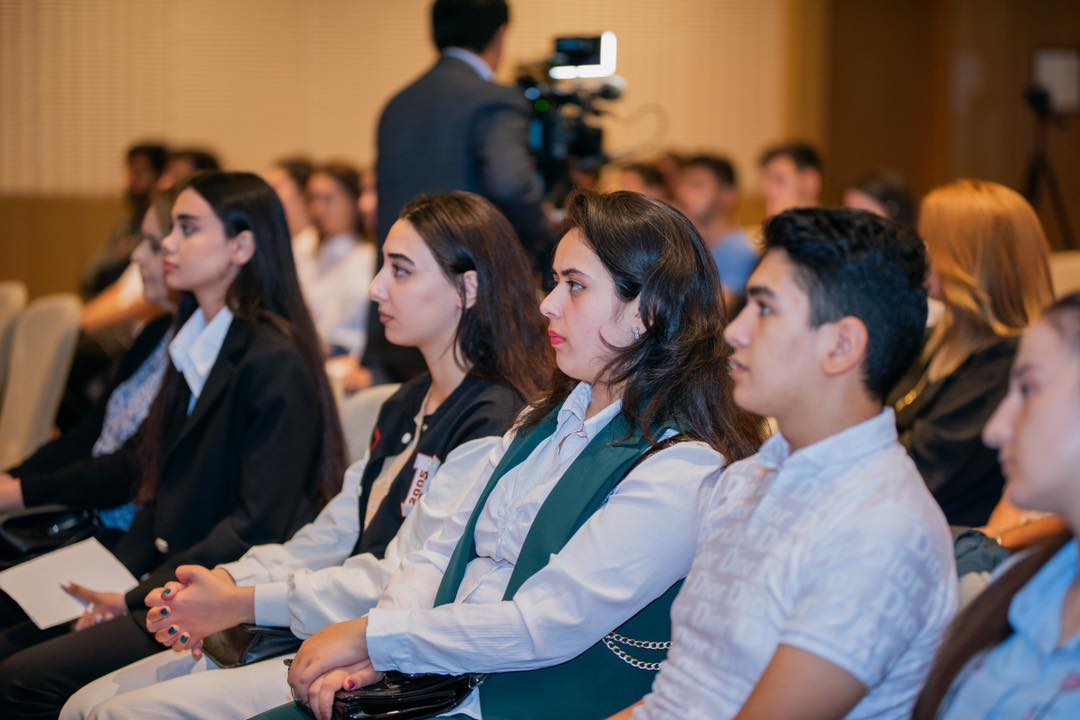 Young Women's Stories: Aytac and Nigar
To give you some insight into young women's backgrounds, here are two heart-warming stories that we wanted to share with you.
One of our scholarship recipients is a twenty-year-old Aytac from Imishli, currently majoring in history at the Baku Women's University. Passionate about teaching and psychology, Aytac wants to pursue a graduate degree abroad with an ultimate goal to return to Azerbaijan as a college professor, focusing on pedagogy. Aytac's academic plans almost fell through, when her father's health and business were destroyed by a fire that broke out at the local shopping center. The family could no longer afford all of their kids' college tuition and so Aytac was thrilled when she received our scholarship.
"I want to pursue a graduate degree abroad with the ultimate goal to return to Azerbaijan as a college professor, focusing on pedagogy."
– Aytac, scholarship recipient
The story of our other scholarship recipient is dramatically different. Nigar is a thirty-year-old single mother, pursuing a Business and Economics degree at Odlar Yurdu University. She lost her husband early and is now struggling with paying her tuition while also raising her little son. The scholarship, she hopes, will give her an opportunity to provide for her son and ensure that he also receives a quality education, making him an upstanding member of their community.
What's Next?
Read our 2022 progress report to learn more about this and other projects that we have been running at For Azerbaijan. If you'd like to donate to next year's pool of scholarships for Azerbaijani girls or support our widely-publicized psychology training program, where we help soldiers returning from combat to heal their PTSD, please donate here. To keep updated on our news or get involved, please follow us on Facebook, Instagram, or LinkedIn.